(Weekday Mornings – 5am – 10am)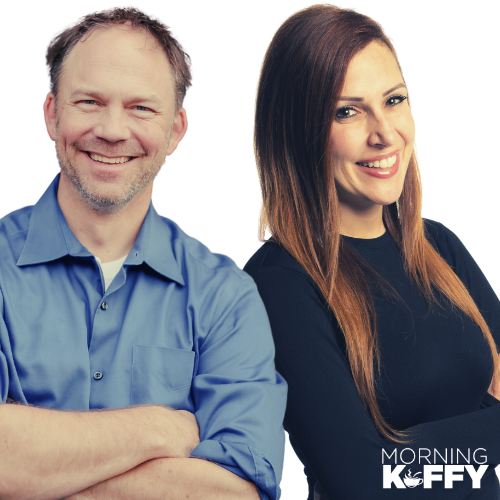 ACM Awards nominees Paul Koffy and Jasmine Sadry host Morning Koffy weekday mornings from 5am – 10am.
Wake up with your daily dose of laughter! They'll start your morning with Name That State, Just The Headline, Joke Of The Day, Country Music News, 30 Second Therapy and WTF- Well, That's Funny.
Your mornings….funny side up with Morning Koffy on 103-3 Country!
Follow Morning Koffy on Social Media!
Paul Koffy is known for his signature interviewing style, his strong connection to A-List Country Stars and his high, caffeinated energy. Prior to making his debut in Music City, Koffy had been all over the United States talking all things country radio. Well known and appreciated by the record industry and country music artists for his presence, style and skills in the art of interviewing, Koffy was awarded "Personality of the Year" from the Country Music Association in 2001.
Outside of his radio show, Koffy is passionate about his Christian faith. He loves animals…he has five dogs and dozens of bee stands, he is a country boy at heart and likes to play around (responsibly, of course) with his tractor and sawmill. While country music is his passion and he tends to live his life by country music lyrics…dirt, sweat, hard work, Jesus, and bonfires. All things combine to create the perfect recipe for a happy life for Paul!
Jasmine Sadry has been in broadcast media for 18 years. She has also made her name in acting with appearances in Dallas (2012), New Pollution (2006) and MTV2's Ain't That America. She was nominated for "2018 CMA Broadcast Personality of The Year" for her work co-hosting a country morning show on KSCS Dallas. In her spare time Sadry is a co-host of First and 10s, a podcast about sports from a woman's perspective. In addition to country music and sports,
Jasmine loves animals, science, theatre, the outdoors, traveling, and girlie stuff like wine and fashion! Sadry is fluent in English, Farsi, and Armenian and is a Texas girl at heart – you'll see that Texas-spirit come out in her humor and her social posts.